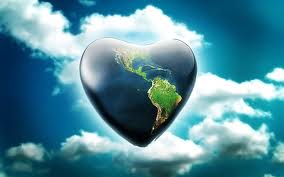 One night Bonnie Levinson, a long time member of the Magic Love Bus tribe, awoke with a powerful download of inspiration. The spirit of the LovEvolution poured through her in words that she crafted into the below poem. Her inspired poem resonated powerfully with the crew of the Magic Love Bus and we invited her to read her poem at the Blast Off Party for the 2012 Magic Love Bus Journey. We share this beautiful poem and its inspiration with you now.
LovEvolution
LovEvolution is a coevolution revolution
A sustainable solution
LovEvolution is when the power of love
Replaces the love of power
LovEvolution is the solution
LovEvolution is social justice
Its environmental justice
Its environmental sanity
Its environmental harmony
It's mindfulness of our four-legged and winged
 brothers and sisters
who we share this planet with
Mindfulness of the next seven generations
LovEvolution is a coevolution solution
To bring a halt to pollution
To halt unsustainable resolutions
LovEvolution is a compassionate revolution
When capitalism and greed
is replaced by social and economic justice
When healthcare, a good education, housing and nutritious food
Is a right – not a privilege
LovEvolution is the coevolution solution
Where the needs of the many
Outweigh the desires of the few
LovEvolution is when military madness
Is replaced by peaceful solutions
LovEvolution is the evolution of consciousness
by a critical mass
When the power of love
Replaces the love of power
For the continuation of a peaceful life
On this sacred planet.