Wow, after two months of non stop serendipity, amazing encounters and constant challenges – the Magic Love Bus and its crew finally land in Asheville. To celebrate this amazing journey we are having a free celebration and ceremony in downtown Asheville at Pack Square on Sunday, July 1st from 3pm to 10pm. There will be fantastic music by several different groups of musicians and a completion ceremony at 9pm. Come join us on the Bus or online for the live stream at www.LiveStream.com/MagicLoveBus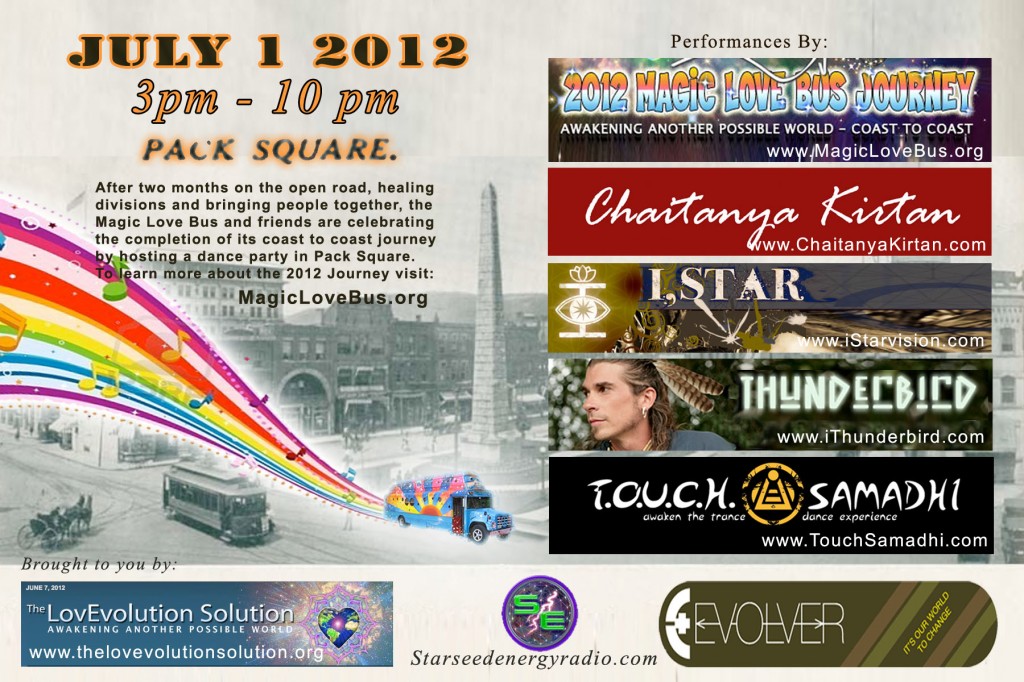 In mid April the Magic Love Bus Journey cast off from San Francisco dedicated to "healing divisions – coast to coast" by bringing people of all colors, creeds and classes together on the Bus to share music, food, ideas and their hearts. Since then Bus has hosted free events all across America, providing a platform for free expression and a vehicle for personal and group transformation.
Highlights of the 2012 Magic Love Bus Journey across America.
MUSIC ARTISTS & ACTS:
Xavier Hawk – A raw, tribal, techno-sonic medicine man. His music has been featured on National Geographic, independent Movies, compilations, and DVD's. His one of a kind approach to musical theatrics weaves techno, tribal, jam, and hip hop influences together into a shamanic journey / www.ithunderbird.com
DJ Kri – Amidst the constantly changing psy-trance genre Kri has exhibited a continuing passion for the depth and multi-layered sound that evolved from Goa Trance in the early days of the scene. Kri rouses listeners into fluid, euphoric motion and paints the party a vibrant psychedelic shade. / www.touchsamadhi.com
I,Star – We're Aradhana Silvermoon and Truth-I Manifest, husband/wife team and founders of I,Star, and we welcome you. I,Star's music is best described as folk-hop, the synthesis of Aradhana's singer/songwriter essence and Truth-I's lyrical flow, blending reggae, funk, and alternative sounds with stellar musicianship. / www.istarvision.com
Chaitanya Kirtan – "Immerse yourself in a Synergy of Heart and Spirit, Exuberance and Grace as you sing with Chaitanya Kirtan Group " / www.ChaitanyaKirtan.com
Evolver Asheville meeting – Evolver is a new social network for conscious collaboration. It provides a platform for individuals, communities, and organizations to discover and share the new tools, initiatives, and ideas that will improve our lives and change the world.
HOSTED BY:
Jonah Bolt – www.starseedenergyradio.com
LovEvolutionSolution.org – Sponsors of the 2012 Magic Love Bus Journey
Zen – Healing Love Society